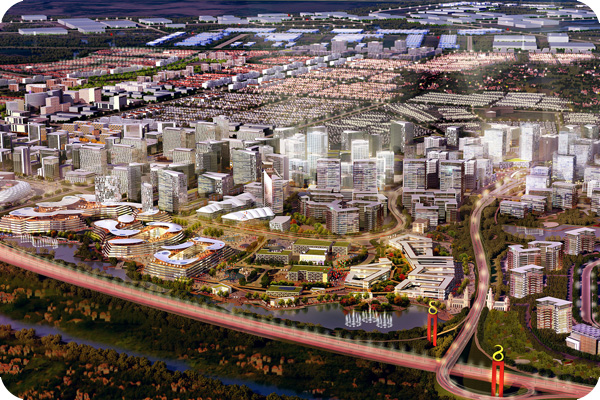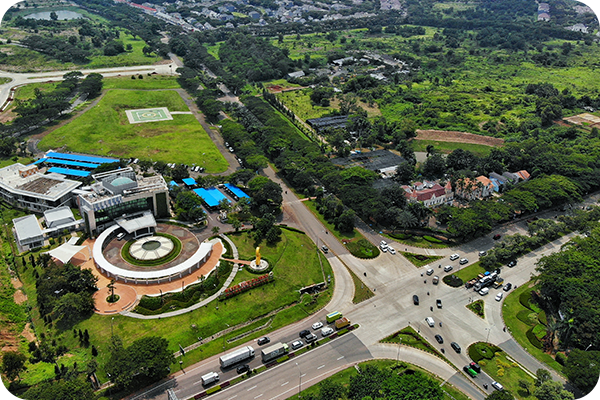 Kota Deltamas is an integrated modern area of ± 3,200 hectares which consists of industrial area, residential area, and commercial area that are located in Central Cikarang, Bekasi District, West Java, Indonesia. Kota Deltamas is strategically located in the industrial area east of Jakarta with direct toll access from Jakarta-Cikampek KM 37 toll road. Kota Deltamas is developed by PT Puradelta Lestari Tbk. (stock code: DMAS IJ) which is a joint venture between Sinar Mas Land and Sojitz Corporation from Japan. Sinar Mas Land is one of the leading property developers whose track record is no longer doubted and listed on Singapore Exchange (SGX) meanwhile Sojitz Corporation is a conglomerate company from Japan with strong networking globally, owning more than 500 companies and operating in 50 countries, and listed on Tokyo Stock Exchange (TSE).
Industrial area Greenland International Industrial Center (GIIC) is a modern industrial area in Kota Deltamas with the development area totalling ± 2,200 hectares and is equipped with international standard facilities and infrastructure, a few of them includes clean water processing facility, wastewater processing facility, electricity supply with premium service, gas supply, and telecommunication network and optical fiber that are very adequate for industrial area. GIIC has joined KLIK area or Area of Direct Construction Investment.
With well-thought and comprehensive planning techniques, modern residential and commercial areas continue to be developed to complement the integrated facilities in the Kota Deltamas. Currently, Kota Deltamas has opened more than 19 housing clusters in Kota Deltamas and has accommodated the housing needs for thousands of workers around Bekasi District. Along with that, Kota Deltamas has presented various facilities in it, for example, school, university, hotel and rented apartments, sports complex, praying facilities, and others. Thus, Kota Deltamas in the future will be an integrated city which provides the best service for all customers, a business center and industrial center that are complemented with housing facilities, education, and shopping center, in the east of Jakarta.
Kota Deltamas provides prospects and opportunities for large investment in the future to obtain a better life and business qualities, trusted by the customers, society, employees and all other stakeholders. Kota Deltamas has obtained certificates for International QSHE Management System Integration; ISO 9001, ISO 14001 & ISO 45001.

Corporation Vision
To become a leading property developer in the South East Asia area that is trusted by customers, society, employees and other stakeholders.